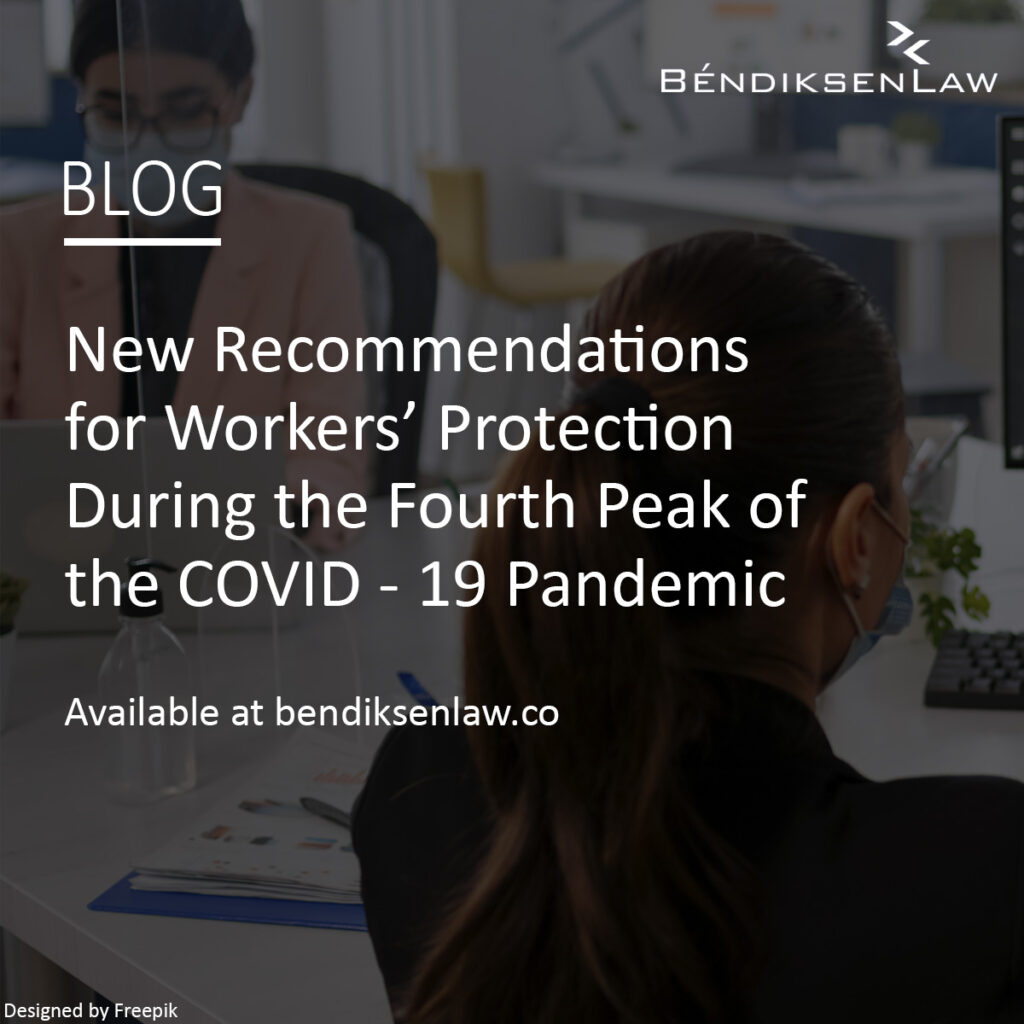 New Recommendations for Workers' Protection During the Fourth Peak of the COVID – 19 Pandemic
On January 13th of this year, the Ministries of Labor and Health and Social Protection issued Joint Document No. 004 of 2022, which promotes new preventive measures against the increase in COVID-19 infections that has been occurring in the country due to the spread of the Omicron variant, in order to guarantee the health and biosecurity of workers and to reduce the demand for health services. Thus, new guidelines were issued regarding mandatory isolation that must be complied with immediately by those who have symptoms as well as those who are asymptomatic but have been in close contact with a confirmed case of COVID-19.
Consequently, symptomatic people, regardless of their vaccination status, health risk factors or their age, must isolate themselves for seven (7) days from the onset of symptoms without requiring a diagnostic test which, in accordance with the guidelines for the use of diagnostic tests for COVID-19 in Colombia, are reserved for people over 60 years old, children under three (3) years of age and those with health risk factors. Thus, the onset of symptoms is enough for isolation to be necessary, without this preventing individuals from going to a health care professional to receive attention.
Similarly, people who are asymptomatic but who have had close contact with a confirmed case of COVID-19 and who have not completed their vaccination, should also isolate for a period of seven (7) days from the first day of exposure. In the event that the person cannot perform telework or remote work, they can go to a health care professional who can order the diagnostic test to clarify their situation and avoid the spread of the virus among their co-workers. However, in cases were individuals have completed their vaccination, they need not comply with the isolation order nor have the diagnostic test performed, they must only refrain from participating in events that involve crowds and must avoid close contact with people over 60 years, children under three (3) years or with people who have any risk factor for a period of seven (7) days from the day of exposition.
In summary, this is how the mandatory isolation and diagnostic testing will proceed:

It is important that employers take into account that once the worker complies with this mandatory isolation, they may return to their work activities without it being necessary for them to present a diagnostic test for COVID-19. Lastly, these new measures do not authorize non-compliance with the labor protection measures that have been previously adopted by the Ministry of Labor in terms of employment protection in the context of the health emergency.
At BéndiksenLaw we are aware of the regulatory changes relevant to your company. If you have any questions about how this mandatory isolation operates or any other measure that may affect your company in the framework of COVID-19, please contact us.